What we do
We breed Pygmy goats firstly because we love them, they are so much fun very intelligent and really friendly and affectionate.To us they are very addictive, the more time you spend with them the more you want to.
Our main aims for the herd are to breed goats that are healthy,have good temperaments, wonderful colours and are as close to the breed standard as possible. We spend a lot of time with the  adult goats, each one will come over to us for a fuss without food tempts when out in the paddocks. This makes handling them a lot easier when trimming feet, worming vaccinating and especially when they are kidding. When the kids are born they are handled from day one, so when they go to new homes they are already very friendly and easy to handle. We are lucky enough to have a grandson who adores the goats plus other children who come to visit so the goats are very use to children handling them.
Pygmy goats make wonderful pets are very rewarding and quite easy to manage, they are very popular at petting farms,(that is where most people first come into contact with Pygmys) some live at retirement homes, the elderly love them, recently we had some go to a new farm that has just been set up for adults with autism and learning difficulties, there they are encouraged to help look after them as well as handle them.Some people have them as pets and also love to show them, we do at the Royal Norfolk show/ Hatfield show and some times even further afield, this is also good fun and we have had some very good results (see the gallery page) and is also another place where the public get a chance to see them.
We breed registered & unregistered goats, debbuded (hornless) & horned goats the latter mainly to order as we normaly debud all the kids that are born, they are all a wonderful variety of colours. black/white, brown/white, tri colours and one of our favourites  the spotted, because of the vast variety of colours   hence our name  Rainbow Herd.
We also offer you the chance to come and interact with our goats to decide if goatsr4u and if so we will offer you the chance for a half day learning, teaching and interaction opportunity with our goats, if you would like more information on this and if you are considering being a Pygmy Goat owner then click onto the advice page this may help you decide.
Early booking is recomended as most of our kids are booked before they are born.
Telephone Heather on 01986 788194, mobile 07770 401681 or
email: heather@pygmygoats.co.uk or hgreenmore@outlook.com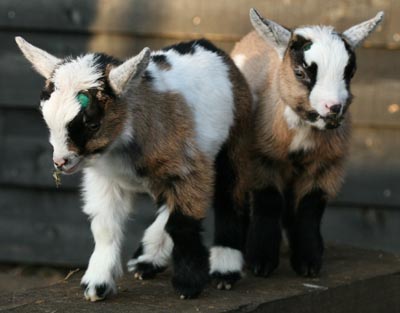 This is Splish & Splosh two Tri coloured kids